Welcome to my new High Definition Television Web page! I built it using Tripod's One-minute Page builder.
The Television System in Argentina will be the NTSC sussesor ATSC.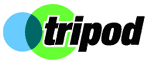 This is the Tripod logo.
En la Argentina se utiliza desde 1980 el sistema color PAL con la norma N, con anterioridad se utilizo el sistema en Blanco y Negro NTSC pero con 50Hz y 625 lineas correspondiente a la norma N.
Ahora a fin del siglo se promueve un cabio en los sistemas de transmision de las telecomunicaciones. Tanto en Europa como en USA se promovio la implementacion a corto plazo del sistema de television digital. La historia comienza en 1985 cuando la FCC norteamericana determina el sistema de alta definición que reemplazaría al NTSC. En Japon el sistema de alta definicion (HDTV) se implemento en la empresa NHK con el formato 16:9 parecido al formato academia del cine.
[an error occurred while processing this directive]
Tripod MP3 Search
Artist or Song Name: